Pam's father was the primary caretaker of her 83-year-mother, Jackie, until he was diagnosed with stage four cancer nearly one year ago. During the course of this treatment, the family was faced with how to care for Jackie, who has advanced dementia and needs 
24-hour care. Pam was referred to the JRC Adult Day Center, a United Way funded agency that offers an alternative for adults who want to stay out of a nursing home or other permanent care facilities.
"Truly the JRC Adult Day Center is an extraordinary place that has truly fulfilled our needs in a very special way," said Pam, who is a nurse consultant in geriatrics and long-term care. With her knowledge and experience, Pam was armed with a checklist. She knew what she wanted for her mother; a safe place that felt like home, a warm and friendly environment and a sense of a purpose for her mother. "JRC Adult Day Center met every criteria that I had on my list."
"We can't make our loved ones with dementia be happy all the time and we can't make their days perfect. But, we can create moments of happiness. The JRC staff will sing with her, walk with her, interact with her one-on-one, shift with her changing mood and help her in her grieving process. These days she has a high-quality of life, full of joy and contentedness."
"During those last few weeks caring for my dad at home, his concern as "What's going to happen to mom?" I am so thankful he was able to visit JRC before he passed on. He was at peace knowing my mother is in a safe and engaging environment."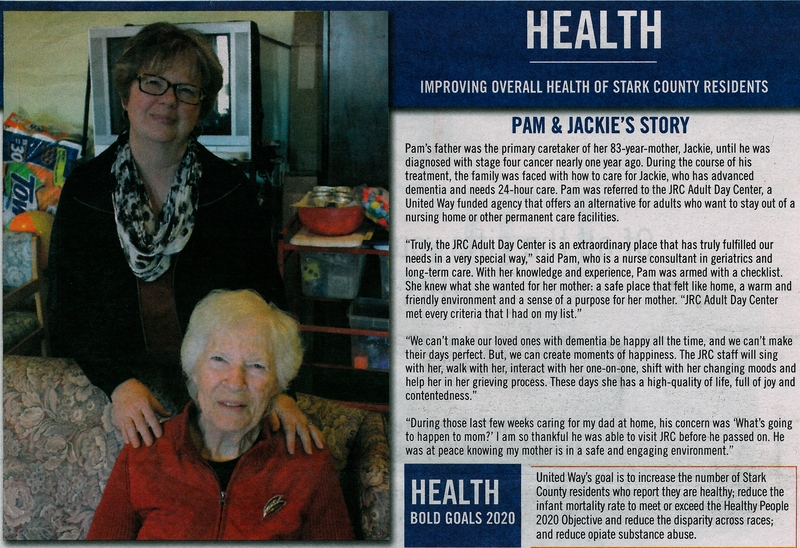 This week is all about "Spirit Week" for McKinley vs Massillon….On October 25, 2017 the McKinley Cheerleaders visited the JRC Adult Day Center to do various cheerleading routines with our members.  The first picture is Georgia Moody (member) with her granddaughter. Georgia was in tears with excitement to cheer with her grandaughter!
The next picture shows that David Dorland (member) came dressed to impress! His wife, Pauline, mentioned that they were "die hard" season ticket holders for McKinley back in the day and she wasn't sure if his outfit still fit, lol. His wife also mentioned he woke up in a great mood this morning knowing he was going to be wearing his "True Colors"!!!!!
Some of our members really got into the whole day by making "Beat Massillon" posters, as you will find in some of the pictures. This Friday, Massillon will get revenge when their cheerleaders visit the Adult Day Center, as well! Stay tuned.....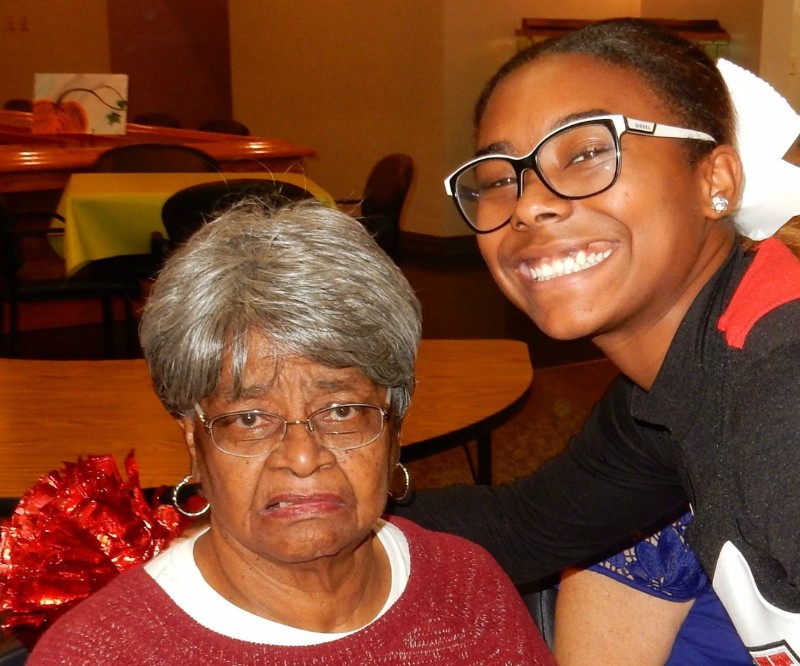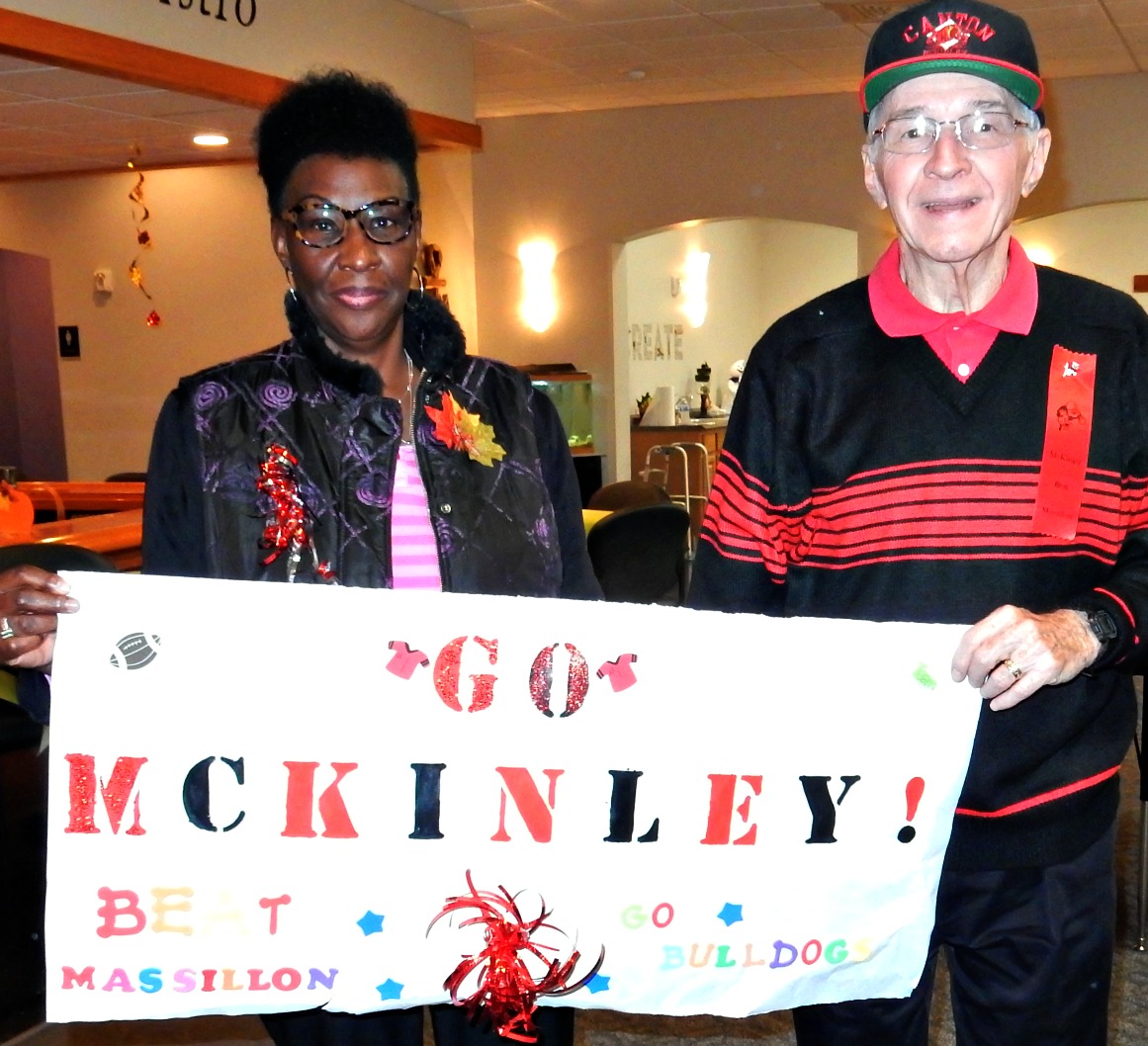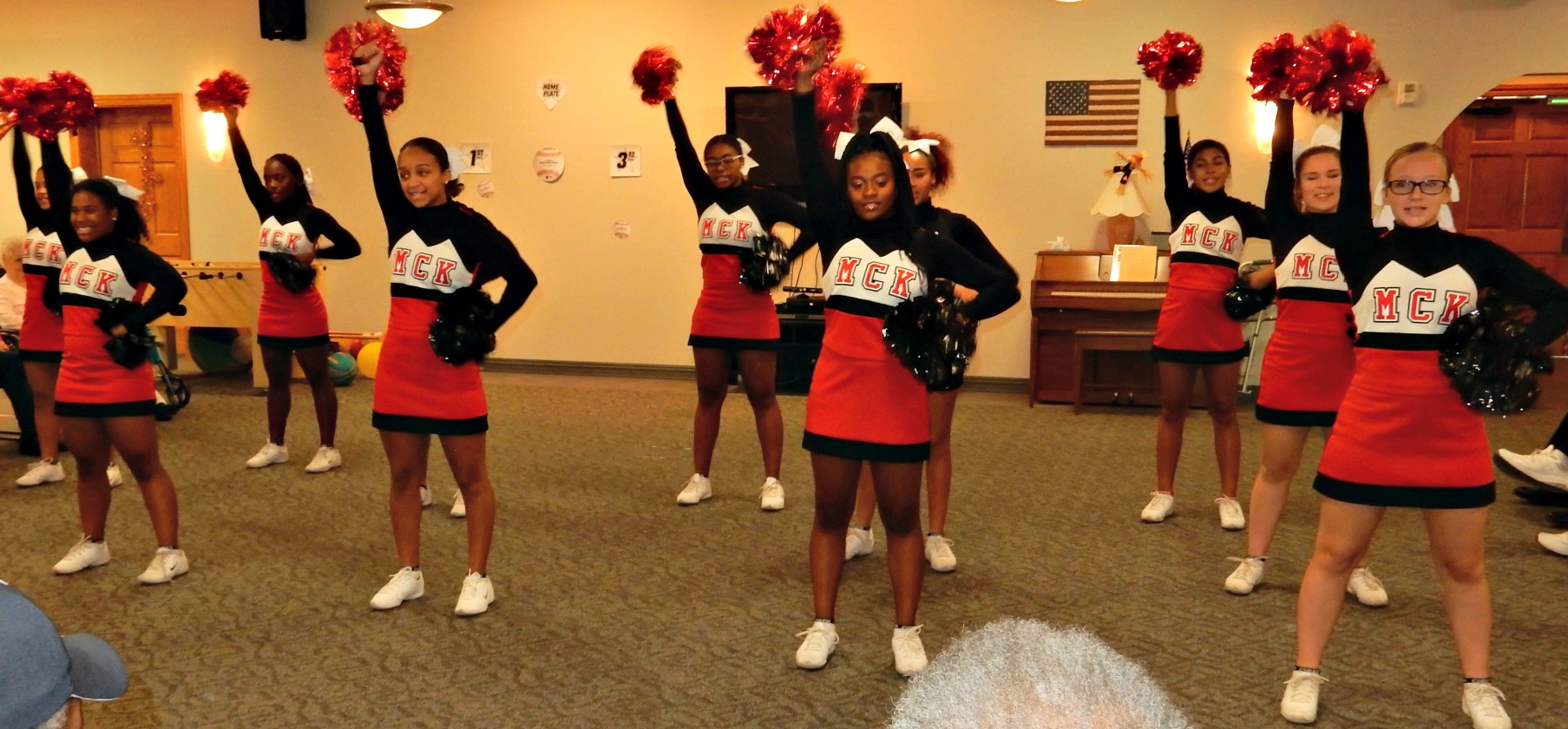 On October 27, 2017 the Massillon Cheerleaders Visited the JRC Adult Day Center. There were lots of Massillon supporters in the house!
The pictures below say it all!