The opportunities to get involved with JRC are as diverse as the children,                    seniors, and families we serve.  We would love for you to join our wonderful volunteer program.   Please consider becoming a part of our JRC Family!!
There are volunteer opportunities at both our
JRC Adult Day Center to work with our Senior Members and our two
JRC Learning Centers to work with our Preschoolers.
See application below for specific volunteer choices. Once signed up you will receive a Volunteer Orientation with Tour, Job Description details and "When to Help" software training.
LeeAnn Chievitz, JRC Volunteer Director 
Click on form to download, print form, complete, scan and email to LeeAnn.Chievitz@Jrccares.org OR print form and mail to JRC 3300 Parkway St. NW Canton, Ohio 44708
* Volunteer Management Scheduling Software provided by WhenToHelp.com - Click on the W below the Volunteer Application to view our scheduling software. Once you complete the JRC Volunteer Application and send it to JRC, your will receive an email with an invitation from "When to Help" to sign in with the user name and password given, create new ones and view our volunteer calendar and make your volunteer job selections.
Many volunteer opportunities available at both the JRC Adult Day Center and the JRC Learning Centers.  
Some examples below....
LeeAnn Chievitz, JRC Public Relations Coordinator with Julie Abiecunas, JRC CEO welcoming three new volunteers to our JRC Team from the United Way Give 5 Program! Thrilled to have them as a part of our JRC Volunteer Family!
A big JRC Welcome to Melinda Graham, Sue Lewis and Lester Strode!

Look at all of these GREAT JRC VOLUNTEERS at our JRC Women in History Luncheon!

Next see them in action!

Lesley Venturella honored at our JRC Women In History Fundraiser for all of her many hours of volunteering for JRC for many many years!

Lexie Hines and Lesley Venturella decorating Bulletin Boards in our JRC Learning Centers!

Lexie Hines prepping for the WHBC KidFest craft for the JRC Booth!

More prepping for the KidFest!

LeeAnn Chievitz - JRC Volunteer Coordinator in center hugging up with volunteers - left Mary Jo Sanders and right staff Carrie Pappagallo at the WHBC KidFest Booth!

Connie Carmany volunteer with JRC Fish Tanks now coming to volunteer at the Intergenerational Connections Program where her Grandson is a participant. He runs to her and she embraces him!

Melinda Graham volunteers weekly in the JRC Intergenerational Connections Program. This day she was helping with an Art Therapy Project at the Canton Museum of Art. Both our children and seniors were there connecting through Art Therapy...

Francine Hart pitching in to prepare the for Summer Bash at the JRC Learning Center Parkway.

Deb Maxwell making signs for the JRC Learning Center's Summer Bash!

Volunteers Melinda Graham, Lesley Venturella and Lester Strode manning the Basket Raffle at a JRC Special Event!

Laura Diamond volunteering at a JRC Special Event with her daughter to help sell 50/50 Raffle Tickets!

Tom Thompson - JRC's past Executive Director volunteered for our JRC Special Event and joined in to sell 50/50 Raffle Tickets! Way to go Tom!

Tom's wife Betty Thompson volunteers for so many jobs at JRC - this was the registration table at our JRC's Special Event.

Laura Diamond volunteers at the JRC Intergenerational Connections Program weekly!

Laura Diamond and Melinda Graham volunteering at the JRC Intergenerational Connections Program weekly!

United Way Day of Caring 2022 - Huntington Bank - THANK YOU!!!

United Way Day of Caring 2022 - Miller Weldmaster - THANK YOU!!

Serve Day 2022 - Faith Family Church - THANK YOU!!

JRC's Fundraiser Reverse Raffle

Kay Leasure volunteering at the event!

Lexie Hines, a volunteer at the Reverse Raffle!

Frank Codispoti first time volunteering for JRC at the fundraiser!

Rose Hamrick and Sue Lewis checking everyone in at the Reverse Raffle Fundraiser!

Carla Gillems, JRC Staff with volunteers including her mom at the fundraising event.

All the volunteers at the event pitching in for the raffle.

Tom Venturella and Bruce DiPietro volunteering to prepare, carve and serve Thanksgiving Luncheon for the JRC Adult Day Center seniors.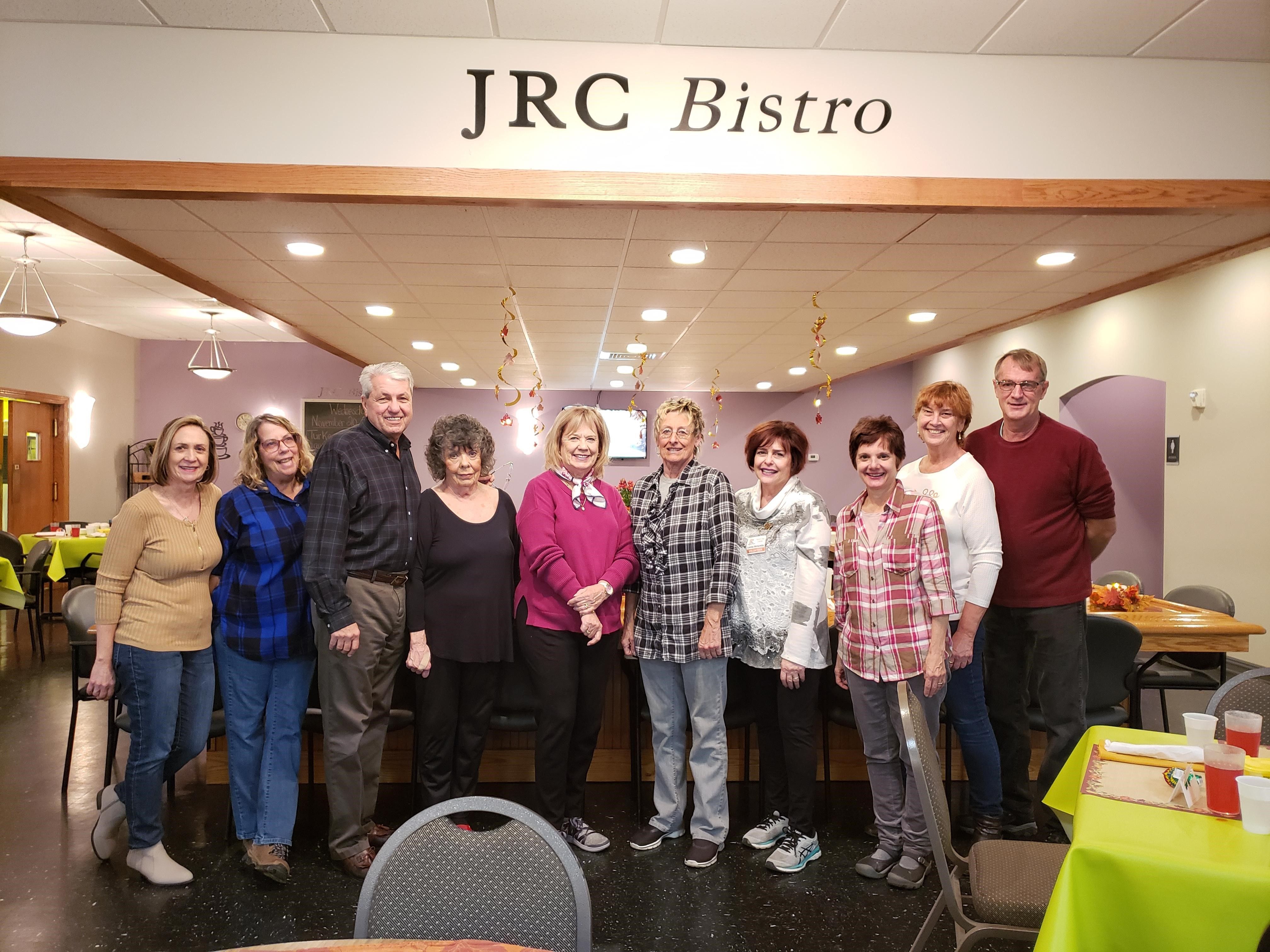 ---
---